Hand-made neon and steel 2021
Murmur by Kevin Killen, is a site-specific public artwork commissioned for the Market Place Theatre as part of the Alleyways project. Alleyways was a community focused public art project led by Killen and managed by Council officers Louise Rice, Danielle Fegan and Riann Coulter, with the support of the staff of the Market Place Theatre, Armagh County Museum, the Council's Regeneration Department and the artist Robert Peters. Alleyways was part of Connected, a large scale community engagement project funded by the Arts Council of Northern Ireland. The Creative Community Partners on this project were: Armagh Art Club, Armagh Men's Shed, Armagh Writers, Epicentre, Include Youth, REACT and Southern Regional College.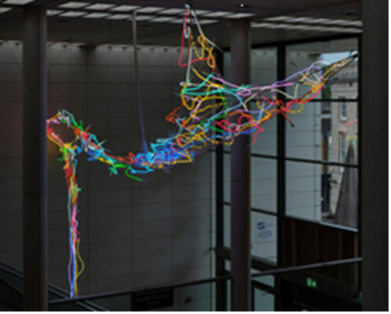 As Killen has explained:
'Murmur is a series of light arrangements – a map of the Alleyways of Armagh. My initial role was that of observer and photographer documenting the outlines created by city lights as I move though the alleyways.  I have used the city streets as my canvas, the city lights are the ink and my camera becomes a drawing tool capturing these fleeting patterns in "light paintings".  This process involves a degree of chance.  As the camera moves when I walk, accidents occur, recording unexpected images and adding spontaneity and playfulness to the light drawings. Objects and people imprint as black marks, as they obstruct the lights from the city and traffic.  I deconstruct and visualise these photographic images in three-dimensional neon installations, translating the urban setting into kinetic light pulses.
Killen wanted to include words and phrases gathered from the community during creative workshops. Their hand-written texts, describing Armagh and its Alleyways, have been layered onto the neon surface. 
Commissioned specifically for the Market Place Theatre, Murmur utilises the volume of the space providing varied viewing points from the entrance hall, the bar on the lower level and externally, where the work becomes part of the streetscape of the City. 
About Kevin Killen
Kevin Killen's current practice is the creation of self-made neon light sculptures and installations, often site-specific. The works capture moments in time, representing life and peoples' physical journeys as snapshots of lives. Born in 1977 in Belfast, he obtained a BA (Hons) in Fine Art from the Surrey Institute of Art and Design University College (now the UCA) in 1999 and specialist training in neon making in Dallas, Texas in 2009.
 'Through my practice I attempt to capture translations of space, movement and time using the medium of light.  Many of my works start with physically traversing, or mapping, a cityscape or journey. At other times, I drive through landscapes filming long-exposures that "draw" the journey in light.  Translating these journeys into cartography using neon lines, I consider the neons as drawings in their own right.   Creating the works is a solitary exploration, a fragmented memory of the now ended journey.  Some essence of the original journey remains in the translated final works, but there is also something new that is created within the artworks.'